Inverse psoriasis is a rare form of psoriasis that affects between 3% and 7% of patients with psoriasis. It is often confused with an allergic skin reaction or a fungal infection to the untrained eye.
Inverse psoriasis is a painful and uncomfortable form of psoriasis affecting the areas of the body where clothes cover the skin or where skin rubs against skin such as in the armpits, under the breasts, in the genitals and around the buttocks. These skin folds are called flexures which is why Inverse Psoriasis is also is known as flexural psoriasis.
Other names are hidden psoriasis or intertriginous psoriasis, but it is most commonly called inverse psoriasis because it is the opposite (inverse) of the more common plaque psoriasis which appears in the form of dry, flaky lesions on the exterior surface of the body. As the areas affected are generally more moist, there is no possibility of developing the dry scales associated with other psoriasis types.
The appearance of inverse psoriasis is very different to plaque psoriasis. First signs are bright red patches (or dark patches on darker skin tones) in the body folds which are mostly shiny, smooth, and very clearly outlined.
It has been said that inverse psoriasis is not as bad as other forms of psoriasis as it occurs in areas that cannot be seen and therefore can't stop you from living your regular life, but this is not the case. It is very painful and uncomfortable. You may be able to hide it, but you can't stop feeling it. The moist areas of the body are generally more sensitive and the effects of the skin rubbing together combined with the sweat that occurs in these skin folds, means the skin can become very itchy, sore, and tender. In time, the centre of an inverse psoriasis can crack open (known as fissures) which can often lead to bleeding. This can happen because of the medications used to treat inverse Psoriasis causing thinning of the skin.
This in turn causes:
possible fungal or bacterial infection
Intense irritation and soreness
Sexual problems from discomfort
COMMON TRIGGERS FOR INVERSE PSORIASIS
It is not easy to pinpoint what triggers psoriasis in sensitive areas. As will other psoriasis types, it can happen spontaneously due to:
Being overweight
Infections
Injury to the Skin
Stress
Certain medications
Friction in deep skin folds
Inverse psoriasis in sensitive areas such as the armpits or genital areas can be further exacerbated by external factors such as deodorants, sanitary towels, thrush, tight clothing rubbing the skin or sexual intercourse.
INVERSE PSORIASIS VS INTERTRIGO
It is common for Inverse Psoriasis to be misdiagnosed as a fungal infection or other skin conditions such as Intertrigo This skin condition mimics very closely all the symptoms Of Inverse psoriasis.
INVERSE PSORIASIS
a) Is more likely if you already have other forms or psoriasis or there is a family history of it.
b) Is a persistent or chronic condition and, although treatment can reduce and even eliminate its symptoms for a period, they eventually return, which known as a relapse.
c) Is an autoimmune disease that is difficult to treat and for which there is no cure. It is generally caused by a combination of triggering events and genetics.
d) Causes inflammation and smooth patches of redness on the skin, which become worse with sweat and friction.
e) Is not associated with a bad smell
INTERTRIGO
a) Is not related to the immune system. It is a skin disorder caused by skin-on-skin friction in moist and warm body areas that becomes a nasty rash that sting and itches. This creates an environment for yeast and bacteria to grow.
b) Is often caused by hot, humid weather creating sweat where skin meets skin. It is more evident in people who are obese or have skin that is exposed to urine or faeces. Tight underwear or dirty sweaty clothing and poor hygiene i.e., not showing regularly can also increase the risk.
c) Affects many of the same areas of the body as inverse psoriasis but mainly affects the top layers of the skin. The skin becomes pink, red, or brown and may start to break down if it is very moist. The area can develop a very unpleasant smell.
d) The presence of yeast or fungus can be determined by a KOH Test.
e) Responds well to topical treatments from Vaseline to antifungal treatments and, if necessary, stronger steroid based topical creams.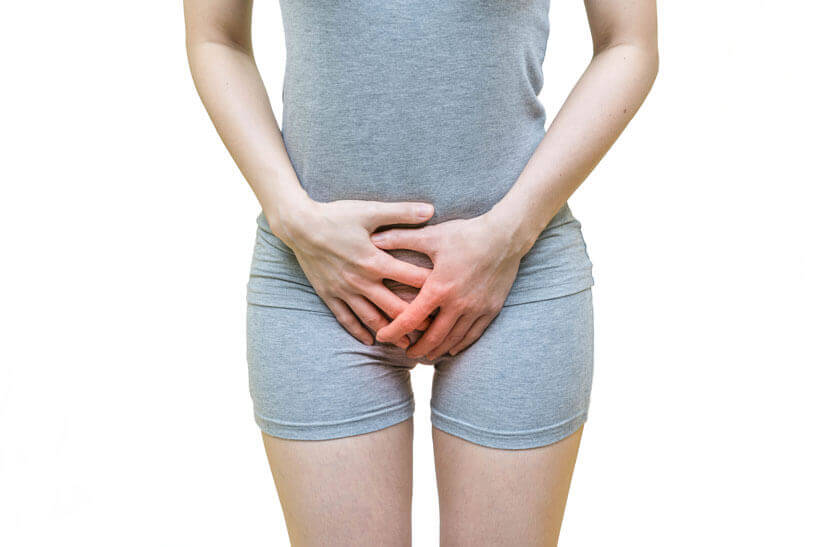 INVERSE PSORIASIS IN GENITAL AREAS
Inverse Psoriasis can make people feel embarrassed about their bodies which, in turn, causes them to avoid intimate situations. When psoriasis affects the genital area, it can be upsetting, and both you and your sexual partner may find that it is helpful to talk together to your Dermatologist or GP.  It is important that your partner understands that Psoriasis is not contagious and cannot be transmitted by sexual contact.  Condoms* or lubricants may help to reduce irritation of psoriasis
TREATMENTS FOR INVERSE PSORIASIS IN SENSITIVE AREAS
Treatments for sensitive areas can be a bit different from those prescribed for other psoriasis types. Skin in the flexural areas is more tender and sensitive and often covered with clothing. Steroid creams that are used in these areas are increased in strength by a warm environment, so it is important to only use mild potency treatments to avoid side effects such as skin thinning. However, you should never stop using steroid creams abruptly as this can lead to a rebound of the psoriasis – just gradually reduce the dose
Not all Vitamin D topical treatments are suitable for sensitive areas, so it is important to check with your GP before using them.
In recent years, a group of treatments known as calcineurin inhibitors (Update of calcineurin inhibitors to treat inverse psoriasis: A systematic review – Dattola – 2018 – Dermatologic Therapy – Wiley Online Library) have been launched for another skin condition, called atopic dermatitis. Originally designed for the treatment of eczema, studies determined that they were also suitable for atopic dermatitis and even more recently for inverse psoriasis. They reduce inflammation and can be used in sensitive areas for longer than topical steroids, making them a good alternative.
As infections are more common in these sensitive areas it may become necessary to be prescribed with anti-fungal and anti-bacterial treatments. M-Folia contains Mahonia Aquifolium extract which has been shown in many research studies to contain anti-fungal, anti-bacterial and anti-microbial alkaloids. M-Folia ointment is perfect for both healing and lubricating areas of inverse psoriasis in sensitive areas..
TIPS FOR THE MANAGEMENT OF INVERSE PSORIASIS
Replace soaps and scented products with bath or shower emollients that cleanse but don't irritate. Avoid parabens and sulphates in all your household foaming products.
Don't rub yourself dry with the towel, instead try patting the area carefully after bathing.
Avoid tight fitting clothes and wear cotton wherever possible.
Wear stockings or hold ups instead of tights to reduce the warmth in flexural areas. For men cotton boxer shorts are best.
Do not use treatments prescribed for other parts of the body unless specifically directed to do so by your doctor.
Some topical treatments reduce the effectiveness of latex condoms. Buy non latex condoms if possible.